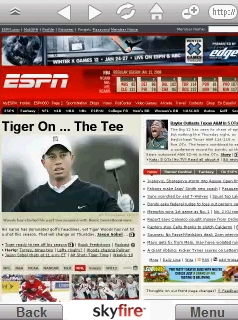 Skyfire is a proxy based internet browser with true Javascript and Ajax function. If you used Opera Mini or Opera Mobile before, you will notice that many many things work better inside Skyfire compared to the later.
Here are some of the features in the latest version of Skyfire
Very customizable Start-Page which integrates flawlessly with most popular internet sites [ Youtube, Gmail, Facebook, Twitter, Yahoo, Bing, etc ]
Online management of bookmarks, history and internet browsing patterns by using Skyfire account. This means you will never lose your bookmarks or cookies when you change phones.
Handy address bar.
Almost desktop-like internet browsing experience.
[ My View ]
Skyfire comes in handy when you want to access some websites that don't look so good on other browsers. For example throw sites like Youtube, the blogspots e.t.c at Skyfier and it does a more than satisfactory job at rendering features onto your mobile screen. It is the perfect mobile phone browser for viewing photos and multimedia.
Compatible devices
Nokia S60 3rd edition and Nokia S60 5th edition.
Windows Mobile 5.0, 6.0, 6.1, and 6.5.
Android OS 1.5, 1.6, 2.0 and 2.1
Where to download Skyfier
Now, did you device pass the qualification test? If yes, we recommend that you download Skyfier from it's official page below;
get.skyfire.com/m
SHARE
KenyaWap Introduces Skyfire
Back